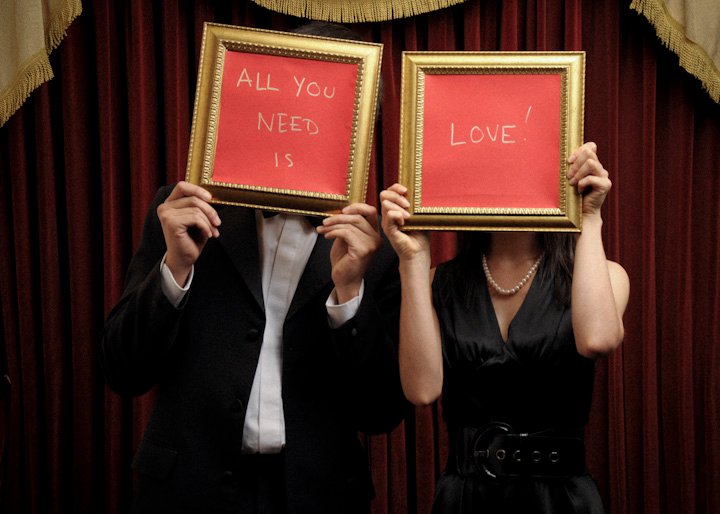 Consider this scenario: a woman receives a hand-written note instructing her to make her way to public library to claim a gift.  Who could resist such a surprise?
Certainly not our heroine, who finds her attention thoroughly piqued by the suggestion. Upon arriving at the library she receives from an attendant another note instructing her to make her way to one of the library's vast reading rooms to retrieve a particular book. Opening the book, she finds a specially made ring box inside. And inside the box is an antique 1930s-era engagement ring.
It's a proposal story that's, well, one for the books, and Little Wed Hen's Stephanie was the lucky woman in question. You can read about the proposal in full here, but today we thought we would speak to the man who prepared the now-cherished book in question. In the following article, Jimmy from FreeHollowBooks talks about how he became a part of this couple's engagement story, and at the same time offers a peek into the work that goes into creating the extraordinary books he's become so known for.
Books as treasure chests
Having seen plenty of movies where hollow books were used as a hiding place for valuables, Jimmy was fascinated from an early age by the idea of a book being used to conceal treasures.
"These days we have so many small and valuable things that we might want to leave in our car or on the desk at work. But who would ever bust out your car window to steal a copy of Atlas Shrugged or The Catcher In The Rye?"
And so a few years ago as a chilly winter brought with it a slow-down in work, Jimmy found himself online googling how to hollow out a book.
"The HowToDoStuff website gave me all the info and I set out to make my first attempt. I headed to our local used book store, Edward McKay, and saw that they had a shelf of books that were free. I grabbed a few hardcovers and headed home.   I followed the instructions I found online and the next day I had my first one finished."
Jimmy first attempt wasn't quite the success he had been hoping for. "I had ruined the front and back covers in the process and the edges of the hollowed space were jagged and sloppy," he says.
But this didn't deter Jimmy from further efforts.  "The subsequent book was much better and I now had a new hobby. I made a few more and my skills were sharpening.  I found better knives and blades along with creating a few innovative techniques to make the process simpler and more consistent. I graduated to making a very personal book for myself: I hollowed out an old psychology book to make perfect little homes for my wallet, car remote, Chapstick, iPod and mobile phone.  Each item had a separate compartment, and I found that I was no longer misplacing things."
It didn't take long for Jimmy's relatives and friends to take note of the psychology book he was now toting around on a regular basis. And it was then that his business, FreeHollowBooks, began to flourish.
"Come Christmas-time, I was being bombarded by friends to make books that they could give as gifts.  I made three or four books and suddenly I was in business. I built a website that a third grader wouldn't have been proud of and waited for people to beat down my door. You couldn't click and buy a book. People had to email me and we worked out payment that way. It was a far cry from Amazon.com, but it was growing. Since then I've sent books to Portugal, Russia, the Netherlands, Iceland, Mexico, Columbia and even one to Kentucky."
From hiding gadgets to surprising soon-to-be brides
But though many of Jimmy's initial commissions were for books to hide gadgets and valuables, Jimmy soon found himself starting to take on a few more unusual commissions. One of them being the book used in the proposal above.
"A young man emailed me through the website and he had a wonderful idea about making a special book to be used as part of a scenario where he was going to propose marriage to a gal who was an avid consumer of the written word,"  says Jimmy. "He wanted to create a book that would house a beautiful box that would hold a vintage engagement ring."
Jimmy was immediately drawn to the project and through email–the young man was located in Australia, and Jimmy America–discussed what was required to make the book the perfect container it needed to be.
"He had me searching out tomes from two authors in particular. Some books proved amply voluminous but lacked character while others just the obverse. Eventually we agreed on one. The book? The second volume of Proust's In Search of Lost Time, which any bookish person will know is rather large and full of character.
"I wanted to leave the book completely original looking so as not to spoil the illusion and the surprise.  The dust jacket was left on and several pages were left at the front to ensure realism. Once I had created the hole with the dimensions needed to accept the specific ring box he had purchased, I made two finger holes alongside the opening to allow for the swift and effortless removal of the box. I wanted the act of taking it out to be natural and smooth. Hopefully I succeeded."
He certainly did.  The proposal in question has swept around the internet like wildfire, and Jimmy has received commissions for other similar projects. One was a request for a large book that could be used to house a 16-inch laptop that would contain an engagement ring, and that could later be used a as laptop case.
"He's looking for a red leather book with a title like 'How to Love a Librarian'.  I'm quite certain that the book does not exist so I'm exploring the idea of having it crafted by a book binder expressly for the purpose."
Marriage by the book
Even before the engagement proposal projects, Jimmy has hollowed out books used for wedding-related celebrations–the first wedding books being seven Bibles that were each hollowed out to hold a flask.
"They went to a man in England to be given as gifts to his groomsmen,"  he says. "Honestly, the Bible is the most requested book by far. Being somewhat of a bestseller, it's plentiful enough to withstand the minor onslaught, I'm sure. I have no qualms about hollowing whatever people want.  Who am I to judge?"
Another recent commission involved hollowing 13 books for a wedding in September.  "A young lady commissioned a case made from six copies of The Book of Love. Each of the six books is glued together and they're hollowed from top to bottom. The case is over a foot deep: it's the biggest case I've ever made."
The "harrowing" process
Hollowing out a book is no easy task. With gluing, prepping and drying time included the entire process can take days to finish.
"You can't just take a blade and cut straight down," Jimmy says. "I'd say that once you get past an inch and a half, the difficulty doubles. As you go thicker, the time involved multiplies exponentially due to various factors. Your knife starts meandering inward toward the spine and seeking to spring out from the top, bottom and sides."
For this reason Jimmy draws on an ample toolkit. "I primarily use three different knives to do the cutting. A small hobby knife for corners, a medical scalpel for fine adjustments and a large snap-off blade knife by OLFA for the heavy work. I like using wax paper to separate pages from gluing because it is cheap and reusable."
Even selecting the books to use can be time consuming, in part because Jimmy gets plenty of requests for very specific titles. But he still browses books at Edward McKay and has expanded to scouting around area book shops, thrift stores and often the Internet to find those elusive titles, as well as other books that have that special something.  "I love any book that looks great without a dust jacket and any book that is bold, that is sturdily built, or that's and pleasing to the eye.  I'm drawn to red books in particular for some reason I can't explain."
But red or not, Jimmy finds that paperbacks are generally a poor choice. "They have one significant drawback: the cover.  When you peel back the cover of a paperback after its pages have been glued together, you find that it doesn't lay back down properly. These books are best suited to being kept on a shelf and should be opened rarely."
The only other caveat Jimmy offers is that delivery confirmation is a must. "I remember a large history book that I sent to Hollywood that was pilfered in transit and that was a hundred-dollar book. Customs can often slow delivery to a crawl but the real problem I had in the beginning was in writing Free Hollow Books.com on the packaging. I think that the lovely folks at a few post offices were taken with the idea and they were snatched."
Giving back, giving away
Browse Jimmy's online "library" here for samples of his work, or to commission a book of your own. Visitors should also take note that Jimmy also gives away a free book every month–and one day hopes to do so on a daily basis.